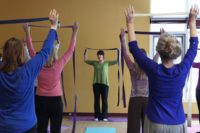 Experience a powerful new paradigm in whole-person care that supports patients on all levels, improving the cancer experience.
Developed by Smith Center for Healing and the Arts, and taught by renowned experts in integrative cancer care, this program is the nation's leading professional training in integrative navigation. This fall, Smith Center is offering the training at Kripalu Center for Yoga and Health in Western Massachusetts.
Integrative Cancer Care Navigation Training
Oct. 23-28, 2016
Tuition: $995.00 plus lodging
Limited scholarships available
More details and to register
Through immersive instruction and experiential learning, you will gain the knowledge, resources and tools needed to:
Create a space of safety, compassionate listening, and support for patients and caregivers throughout the cancer continuum
Increase patients' knowledge of available resources to better cope with cancer and reduce stress
Guide patients in the responsible selection and use of appropriate evidence-based complementary therapies for healing and well-being
Offer patients a deeper level of physical, psychosocial, and spiritual support
Come explore opportunities for self-care and personal healing, and be inspired to transform the experience of cancer for your patients.
The training is open to both new and experienced navigators, and is particularly useful to professionals who would like to expand their skills and services to include whole-person and comprehensive navigation support. Our past trainees serve diverse populations and come from a variety of backgrounds:
Oncology Care Providers (physicians, nurses, counselors, and social workers)
Integrative Practitioners
Patient Advocates
Lay Navigators
Training participants are eligible to receive the following Continuing Education Credits:
Social Workers – 40.5 credits
Nurses – 35.5 credits
Psychologists – 23 credits
Yoga Teachers – 5.75 credits
Source: Smith Center for Healing and the Arts