Colorado Health Navigator Registry
Are you interested in becoming a credentialed Health Navigator and having your name listed on the Colorado Health Navigator Registry?
Colorado has established the first competency-based statewide registry in the nation for health navigators.
This voluntary registry allows employers to ensure they are hiring navigators who have demonstrated that they meet a standard set of competencies (skills). Demonstrating those competencies helps to elevate the recognition of health navigators as professionals.
To earn a spot on the registry, patient/health navigators are required to take training from a state-recognized training program and take the competency assessment.
The Patient Navigator Training Collaborative has been awarded recognition at a state-recognized training program.
To earn a spot on the registry: 
Complete the required coursework (see list at right)
Fill out this form (you must complete this step before registering for an assessment)
Register for the state assessment
The next assessment is expected to be scheduled for spring/summer 2022. Check here for upcoming assessment dates. The cost for the assessment is $363.
For full details, visit the Colorado Department of Public Health & Environment's Health Navigator Workforce Development page.
Watch this video developed by CDPHE that outlines the important work being done by CDPHE and health navigators in Colorado.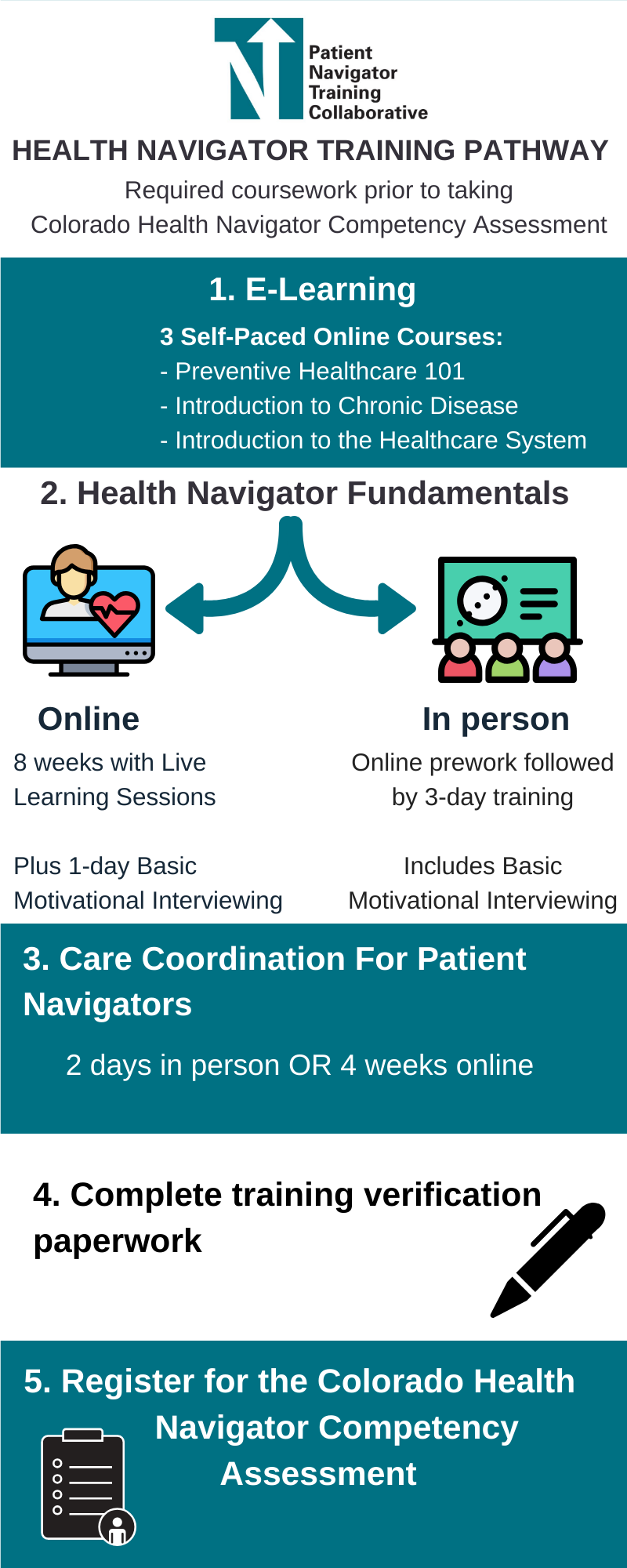 Colorado Health Navigator Assessment FAQs
How can I sign up for the assessment?
You may sign up on the Center for Advancing Professional Excellence (CAPE) registration site. The assessment is typically offered about every other month. The fee is $363.
Where is the assessment located?
Assessments will be held at the CAPE on the Anschutz Medical Campus in Aurora, CO. The address is: Education Building 1, 13070 E. 19th Avenue, Aurora, CO 80045. Watch for announcements regarding assessments offered outside the Denver metropolitan area.
What happens during the assessment?
During the assessment, you will meet with CAPE actors who will be role-playing Standardized Patients, each with a unique scenario or situation. You will meet with one Standardized Patient at a time, but will meet with no more than 8 Standardized Patients during the 3-hour assessment. Each encounter is 15 minutes.
For each encounter, there will be information on the door of the room where you meet with a Standardized Patient. Each scenario will have its own set of common health navigator tasks. The tasks are identified to help you focus the encounter with the Standardized Patient. While you meet with a Standardized Patient, attempt to work on as many tasks as possible and as appropriate. The information provided to you will let you know the time length of the meeting with the patient. It is not expected that all "tasks" identified will be completed in that time frame.
What am I being tested on?
Some examples of "tasks" you will be tested on are:
Establish a collaborative, professional relationship (you will be told if this is your "first meeting" with the patient or whether you already "know" the patient)
Identify patient/client needs and strengths
Arrange referrals to other providers for patient's behavioral symptoms and inform the healthcare team
Apply understanding of common reactions to chronic disease diagnosis and living with chronic disease in communication with patient/client/caregiver/family
Identify appropriate resources and referrals for care, including appropriate community and social service resources
Click here to download a sample video clip so you can know what to expect.
How long will the assessment take?
The assessment takes a half day (3 hours), including an orientation to the assessment logistics and completing the required registration paperwork and evaluation of the assessment process.
Is there a limit on how many times I can take the assessment?
No, there is not a limit on how many times a navigator can take the assessment and no minimum waiting period in between assessments.
Who do I contact for more information?
For questions on the assessment logistics or scheduling, contact Brian Kelly – Brian.Kelly@cuanschutz.edu
For questions on required coursework, contact PNTC at admin@patientnavigatortraining.org.