About Us
The Patient Navigator Training Collaborative provides national leadership for the development, education, standardization and sustainability of the growing patient navigation workforce.
Patient navigators across various healthcare settings must possess specific knowledge and skills.  Imparting the knowledge and building skills are the foci of the Patient Navigator Training Collaborative.  The program offers a full range of patient navigation curricula. We offer different levels of courses for new and experienced patient navigators and supervisors. Course formats include face-to-face, online, eLearning courses, and special-topic webinars. See a list of Courses.  See a current Course Schedule.
The dedicated team includes content and training experts who are patient navigators and navigator supervisors, educators, nurses, medical experts, licensed clinical social workers, psychologists and evaluators. We engage in continuous quality improvement to assure that the courses are of high quality and relevant to the work of patient navigators.
Our program team can also assist your organization. We offer consultation to transform healthcare systems through innovative, evidence-based approaches to deploying patient navigators and improving patient outcomes, satisfaction, and reducing costs.
Indigenous Land Grant Statement: The University of Colorado's four campuses are on the traditional territories and ancestral homelands of the Cheyenne, Arapaho, Ute, Apache, Comanche, Kiowa, Lakota, Pueblo and Shoshone Nations. Further, we acknowledge the 48 contemporary tribal nations historically tied to the lands that comprise what is now called Colorado.
Program Partners
The Center's mission is to create and foster practitioner excellence to improve public health practice at the systems, community and organizational levels. The Center strives to accomplish this through providing workforce development, community project development and practice-based learning and is a collaborator for the Patient Navigator Training Collaborative.
Denver PTC provides state-of-the-art training in clinical and behavioral interventions related to sexually transmitted diseases and HIV. The Prevention center is a member of the National Network of STD/HIV Prevention Training Centers and funded in part from the Centers for Disease Control and Prevention. View their upcoming trainings here.
Denver Health is Colorado's "safety net" healthcare system. Denver Health works extensively with medically underserved patients to eliminate health disparities. The organization provides preventive, primary, and specialty care to 25% of Denver residents, serving more than 160,000 patients each year. In the last 10 years, Denver Health provided more than $2.1 billion in care for the uninsured.
Red Rocks Community College has assisted students in meeting ambitious career and educational goals in an exciting, collaborative environment with multiple pathways to success. They deliver career-enhancing courses, certificate programs and degrees that represent a solid investment in each student's goals and career success. 
Funding 
The PNTC is funded through fee-for-service trainings, project-specific contracts, and various grants.
PNTC would like to thank its past funding partners, the Colorado Health Foundation and Colorado Department of Public Health and Environment.  The Colorado Health Foundation provided support from  2018-2020, enabling the program to offer scholarships. PNTC was funded by a grant from the Cancer, Cardiovascular and Pulmonary Disease program at the Colorado Department of Public Health and Environment from July 2015- June 2018.
Program Team
Patricia Valverde, PhD, MPH
Director
Patricia Valverde is the program's Director. She is an instructor in the Community and Behavioral Health Department of the Colorado School of Public Health. Dr. Valverde has extensive experience in research and program management in the areas of community outreach and patient navigation. She is a leader in local, national, and international patient navigation efforts. Locally in Denver, she has managed the Denver Patient Navigator Research Program (PNRP) and been an instructor and curriculum developer for the Community College of Denver Community Health Worker Certificate program. As a national leader in patient navigation, Dr. Valverde has been an instructor and curriculum developer for the National ACS/PNRP training program and provided training and consultation to patient navigator programs across the country. Internationally, Dr. Valverde has been invited to provide patient navigator training in Mexico City, Mexico and Sao Paolo, Brazil.
Jodi Drisko, MSPH
Program Evaluator

Jodi Drisko, President of Parametrix Group, LLC is a consultant for the Program. She has extensive experience in curriculum design, instruction and evaluation for community health workers and patient navigators. Working with Dr. Whitley, Jodi co-developed the Community College of Denver Community Health Worker Training program and led the evaluation of the Denver Health Community Voices Outreach program.
Erin C. Martinez, MPH
Program Manager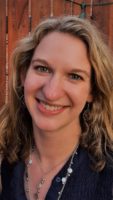 Erin C. Martinez is the Program Manager for the Patient Navigator Training Collaborative. She oversees course scheduling, logistics and communication strategies for the program. Prior to joining the Collaborative, she  worked on various research projects. Her experience includes colorectal cancer prevention, school wellness/youth obesity prevention, promoting healthy behaviors during pregnancy, and program evaluation. Prior to pursuing a career in public health, Ms. Martinez was a community journalist for the Denver Post and has a BS in Journalism from CU Boulder.
Andrea Dwyer, BS, MPH(c)
Outreach Coordinator

Andrea (Andi) Dwyer is a master trainer, collaborator, and advisory board member for the Patient Navigator Training Collaborative. Ms. Dwyer has extensive knowledge and background in colorectal cancer prevention and health promotion. She is the Director of the Colorado Colorectal Screening Program (CCSP) at the University of Colorado Cancer Center and was instrumental in developing and implementing CCSP's patient navigation efforts, one of the largest screening and early detection navigation programs in the country. She serves as the Project Director for the Colorado Cancer Prevention and Control Research Network, jointly funded by Centers for Disease Control and Prevention (CDC) and National Cancer Institute (NCI) and is working in the area of dissemination and implementation research.  Ms. Dwyer is the out-going chair of the Colorado Colorectal Task Force and Co-Chair of Scientific and Evidence Based Health Interventions of the National Colorectal Cancer Roundtable. She also serves as the Director of Health Promotion for Fight Colorectal Cancer, focusing on research and patient education.
Katie Langland, MA
Trainer/Curriculum Developer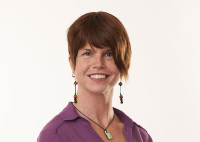 Katie Langland has developed and delivered numerous health education programs, professional trainings, counseling sessions, and community-based programs focusing on health promotion and disease prevention. As a Peace Corps Volunteer, Ms. Langland served as a Community Development and Health Educator in four rural indigenous Guatemalan communities. For several years she has dedicated her time as a literacy volunteer at bilingual schools and community based organizations. She is a certified Elementary Education teacher and a certified Langevin Instructional Designer and Developer, Master Trainer, and a Performance Consultant. She has obtained degrees in Spanish, International Studies, Elementary Education, and an Anthropology Masters with a focus on Political Ecology and Sustainability.
Betsy Risendal, PhD
Founding Director

Dr. Risendal currently serves as an Assistant Professor in the Department of Community and Behavioral Health in the Colorado School of Public Health (CSPH), and a Full Member of the University of Colorado Comprehensive Cancer Center, Division of Cancer Prevention and Control. Her research interests include the multi-disciplinary investigation of cancer outcomes and cancer prevention and control. This includes the study of psychosocial, behavioral, cultural, biological, and treatment-related factors and their impact on cancer outcomes, with a particular emphasis of their influence on health disparities in cancer. She is currently Principal Investigator on research grants funded by the Centers for Disease Control, American Cancer Society, and LIVESTRONG, in addition to the work with the Patient Navigator Training Program.
Bev Wasserman, BSN, RN
Trainer & Curriculum Developer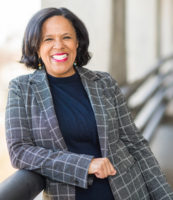 Beverly Wasserman BSN, RN is a registered nurse with over 30 years experience in a variety of acute health care and public health roles. Currently she is a trainer, curriculum developer and board member for the Patient Navigation Training Collaborative along with being a training facilitator for the Rocky Mountain Public Health Training Center-both organizations are housed at the Center for Public Health Practice/Colorado School of Public Health.  Ms. Wasserman is also part of a national training effort through the Denver Prevention Training Center and Centers for Disease Control to provide training and support for pharmacist offering rapid HIV testing. Ms. Wasserman trains on several areas in Patient Navigation, but has key areas of interest in patient motivation, communication and health equity.
Lucille C. Campbell, PhD(h)
Trainer & Curriculum Developer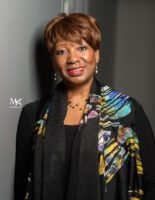 Dr. Lucille C. Campbell is the CEO of Affinity Consulting Services, LLC, and has extensive experience and expertise in the areas of community engagement, project and event management, community-based participatory research, health-related training and curriculum development. She holds an Honorary Doctorate Degree in Public Service from the Denver Institute of Urban Studies and Master of Arts in Psychology and Bachelor of Science in Business Administration degrees from Regis University.  Lucille proudly served on the Mental Health Center of Denver Board of Directors for 7 years and currently serves on Boards for Boomers Leading Change, Trailhead Institute for Public Health Innovation, Regional Institute for Health and Environmental Leadership, Acacia Learning Center, and the Patient Navigator Training Collaborative Advisory Committee.  She is dedicated to empowering the community to live well by advocating for physical and behavioral health, and overall well-being.