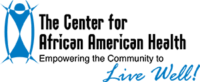 The Center for African American Health is a community-based nonprofit organization dedicated to improving the health and well-being of African Americans. The Center works toward health equity for the underserved African American community by offering culturally competent health education and outreach that empowers community members to overcome the root causes of health problems, maximize their own individual health and access health and support services. We are looking for detail-oriented and organized team members who excel in fast-paced nonprofit environments, are interested in working to promote community health through inquiry, innovation, and impact and in joining a well-respected, high-impact organization with a rich history of community service.
Perinatal Resource Navigator
The Perinatal Resource Navigator will be responsible for advocating for pregnant and parenting women to help achieve health and life goals in relation to healthy pregnancy and parenting outcomes. Responsibilities include providing tailored health education to pregnant and parenting women on a wide variety of topics that will lead to healthy pregnancy outcomes such as healthy eating, breastfeeding, mental and behavioral health, and exercise.
Community Activator
The Community Activator plays a key role in conducting outreach and mobilizing constituents year-round for grass tops and grassroots advocacy led initiatives. In addition to working with other CAA Health staff, the Community Activator will serve as a liaison with constituents, policymakers, and community-based organizations.