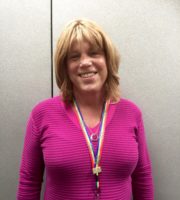 This profile was written by Alejandra Armenta, PNTC intern and public health/ethnic studies student at CU-Denver.
Denver Health is always searching for people passionate about helping others, and they have certainly found this in Paige Jackson. Jackson is a LGBTQ Patient Navigator at Denver Health, which is Colorado's primary safety net hospital.
Jackson makes a difference in people's lives every day, dedicating her time to helping members of the lesbian, gay, bisexual, transgender and queer communities feel safe, confident, and secure when going to the doctor's office.
Jackson spends many hours helping patients; she begins her day by checking her phone calls and emails.
"I am pretty busy with the phone. I get calls from people from out-of-state, and from people who are moving to Denver, who are in the LGBTQ community and they want to make sure they have a health care plan when they come to Denver," she said.
When Jackson meets a new patient, she greets them with a caring smile and genuine questions. Jackson asks the patient their preferred pronoun and name. She assures the patient that the doctor they are seeing is familiar with LGBTQ patients, and this helps new patients feel safe and comfortable.
It is often difficult for Jackson's clients to access health care treatment because of discrimination and fear. Many LGBTQ patients have had bad experiences with their provider that left them feeling ashamed and embarrassed, Jackson said.
---
"I think becoming a patient navigator is the most important thing I ever done in my entire life, and most emotionally rewarding."
---
Jackson has a unique and beneficial perspective since she herself transitioned genders from male to female. She had two experiences with the health care system that inspired her to become a patient navigator for the LGBTQ community.
In 2014, Jackson had an emergency appendectomy procedure. She describes this experience as a painful, uncomfortable, and very unwelcoming.
"The medical treatment was great but the disrespect was amazing. I thought I was a pretty tough individual, but it was devastating," she said. "I didn't want to go back for my follow up visit, and I didn't go back. It was an emotionally painful experience, and I felt like a medical record."
Six months later, Jackson was involved in a car accident, and the paramedics took her to another hospital. Jackson had a completely different experience; she felt welcomed and respected.
"They used feminine pronouns…When they called ahead to the emergency room, they described me as female, and when I arrived to the emergency room my bracelet had female on it," she said. "I walked out of there happy. It was a great experience. I felt like they cared for me, and I didn't really feel like they cared about me at the other hospital, I felt like I was treated like a medical record."
Jackson told her friend about her experiences and her friend encouraged her apply for the position as a Patient Navigator at Denver Health. This was a career shift for her; she spent most of her career at the U.S Department of Labor, where she was a trial lawyer and then a deputy director at the Mine Safety and Health Administration.
When new patients contact Jackson by phone or email, she attempts to win their trust and confidence right from the start. She truly cares about every LGBTQ patient. According to Jackson, empathy is the key to being a great navigator, and she has a lot of empathy for every family in the LGBTQ community.
The most difficult part of Jackson's job is maintaining boundaries with patients, because patients sometimes get her confused with a social worker.
She said, "My job is to get them inside the doctor's office, and find a doctor they feel comfortable seeing."
Jackson gets upset and frustrated when working with patients who miss their appointments or relapse because they leave treatment, and do not show up again.
"It is very disappointing, it's hard," she said. "I still have problems when I can't get a patient to see a doctor."
Jackson takes advantage of the experiences and knowledge she has gained during her life to show compassion for her patients' experiences. As a result, she is able to take a broad perspective on situations and make them positive for patients. Jackson keeps hoping that her kindness and willingness to help others will give patients the confidence and trust to access the health care they need. She plans to stay at Denver Health and keep helping people.
 "I think becoming a patient navigator is the most important thing I ever done in my entire life, and most emotionally rewarding," she said.