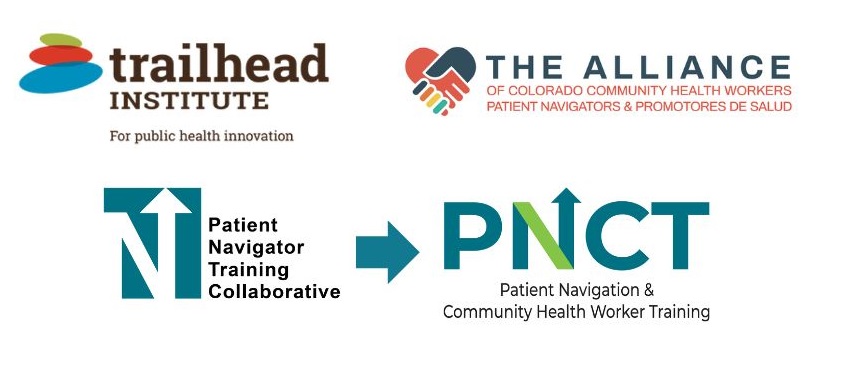 (OCTOBER 2022 — DENVER, CO) The Health Resources & Services Administration (HRSA) has awarded Trailhead Institute, in partnership with Patient Navigation and Community Health Worker Training Program (PNCT) and The Alliance of Colorado Community Health Workers, Patient Navigators and Promotores de Salud (Alliance) nearly $3 million in funding to implement a training and apprenticeship program to support Colorado's community health worker workforce.
Community health workers are a vital link between patients and the fragmented health care system, building trust and helping community members overcome barriers to care. Recognizing this important workforce, HRSA has invested $225.5 million in advancing the public health workforce. Eighty-three grantees as part of the Community Health Worker Training Program, a new multiyear, national program, will support training and apprenticeship programs to support an estimated 13,000 community health workers nationwide, 240 of which will be in Colorado.
This workforce includes health outreach workers, patient navigators, peer counselors, and promotores de salud. As part of the American Rescue Plan funds championed by the Biden Administration, this investment aims to address health inequities exacerbated by the COVID-19 pandemic.
"Colorado has long been a leader in training patient navigators and community health workers," said Patricia Valverde, PhD, MPH, director of PNCT, based out of the Colorado School of Public Health. "We are so excited to expand that effort to include apprenticeships and job placement assistance. There is strong evidence that CHWs improve health outcomes by providing culturally responsive care and being a bridge between clients and health care systems."
Notably, HRSA's significant 3-year investment of federal funds builds on existing workforce development initiatives lead by Trailhead Workforce Programs & Initiatives and partners from the Colorado Public Health Workforce Collaborative who developed and launched Colorado's first blended Community Health Worker Apprenticeship program also registered with the U.S. Department of Labor in April 2021. With the leadership and training expertise of PNTC and the Alliance,  this funding award will focus on developing a statewide community health worker training program and apprenticeships, which provide on-the-job training and support a pathway directly into industry.
"This is a valuable partnership to help support healthy and empowered communities," said Jennifer Edwards, PhD, Director of Workforce Programs & Initiatives at Trailhead Institute. "Developing the public health workforce involves comprehensive training and experiences in the field that these diverse community health workers will be well prepared to offer."
Trailhead, PNCT and the Alliance are looking forward to establishing partnerships with clinical, educational, and agency partners to host CHW trainees for internships and apprenticeships.
Watch the recording of an informational webinar on this effort here.
CONTACT
patientnavigatortraining.org – admin@patientnavigatortraining.org
trailhead.institute – workforce@trailhead.institute
alliance-colorado.org – info@alliance-colorado.org
 About The Alliance of Colorado Community Health Workers, Patient Navigators and Promotores de Salud
The Alliance promotes policies, programs, and partnerships that: reduce and eliminate barriers to quality health care both within health systems and the community; reduce disparities in health outcomes; and foster ongoing health equity. The Alliance believes that every Coloradan has an equal opportunity to obtain healthcare that personally addresses their medical, mental, emotional, social determinants, and spiritual health needs.
About Patient Navigation and Community Health Worker Training Program (PNCT)
PNCT provides national leadership for the development, education, standardization and sustainability of the growing navigation workforce. The program offers a full curriculum of online and in-person courses. Formerly called the Patient Navigator Training Collaborative, PNCT is in the process of changing its name to reflect new courses for CHWs.
About Trailhead Institute's Workforce Programs & Initiatives
Trailhead Institute is a nonprofit public health institute built on the vision that everyone should have the opportunity to be healthy and live in a healthy environment. Trailhead Institute's Workforce Programs & Initiatives support health in Colorado communities by ensuring a resilient, skilled, diverse, and sustained public health workforce for years to come. Striving towards this vision, WPI activates public and environmental health career entry pathways and innovative workforce sustainability strategies to help develop and advance the evolving public and environmental health workforce. With an approach oriented toward equity and inclusion, WPI efforts engage partners across multiple sectors and interdisciplinary areas that influence public and environmental health.