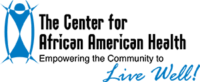 The Center for African American Health is a community-based nonprofit organization dedicated to improving the health and well-being of African Americans. The Center works toward health equity for the underserved African American community by offering culturally competent health education and outreach that empowers community members to overcome the root causes of health problems, maximize their own individual health and access health and support services.
We are looking for detail-oriented and organized team members who excel in fast-paced nonprofit environments, are interested in working to promote community health through inquiry, innovation, and impact and in joining a well-respected, high-impact organization with a rich history of community service.
Under the supervision of Community Resource Navigator, the Community Outreach Ambassador plays a key role in conducting outreach and connecting members of the African American community with programs offered by CAA Health.
Primary Roles and Responsibilities:
Attend community outreach events with Community Resources Navigation team to assist with table setup/tear down, distribution of materials, intake paperwork completion, provide information on community resources, and other activities as mutually agreed upon.
Assist with recruitment of participants who would benefit from attending CAA Health programs by distributing informational materials to targeted locations and reaching out to other community organizations as directed.
Document all community outreach efforts and provides data required for various reports.
Balance conflicting priorities to manage workflow, ensure the completion of essential projects, and meet critical deadlines.
Requirements/Qualifications
High School diploma +1 year of community outreach experience
Excellent communication skills, friendly, enthusiastic, and positive attitude
Comfortable engaging with people from diverse backgrounds
Ability to analyze problems and find solutions which support and enable sound decision-making.
Ability to work independently and as a part of a collaborative team.
Reliable transportation, with valid driver's license and current liability insurance.
Hourly Rate
$25.00
Work Environment
This part time role will take place in several different environments – both indoors and outdoors depending on the event venue and activity being performed.
How to Apply
Qualified candidates are encouraged to apply. Please submit a cover letter, resume and writing sample to the following email address and include Community Outreach Ambassador in the subject line: careers@caahealth.org. No phone calls please. All applications must be submitted electronically – none will be accepted in person. More information about The Center for African American Health can be found on our website.