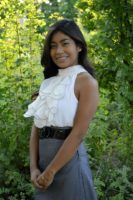 The Patient Navigator Training Collaborative is excited to have a student intern for the fall semester. Read more about Alejandra below and learn how to get involved with her project!
My name is Alejandra Armenta. I am a bilingual student attending the University of Colorado Denver, studying Public Health and Ethnic Studies. I am currently doing an internship with Patient Navigator Training Collaborative. I am interested in developing new content for the website, because this will allow me to promote the role of current patient navigators and it will also allow me to learn how patient navigators help their patients.
I learned through my own first-hand experience how difficult moving to a new country, culture, and language can be.  I was born in Mexico and lived there until I was four years old. After a few months of living in Colorado, I was getting really upset because I couldn't understand anything. Through my frustrations, I knew I had to learn to speak English. It was not easy at all. I had difficulty comprehending the meaning of what was said during class and was frustrated when listening to others speak, but I made the commitment to study. My courage and willingness has made me successful.
Today my life has changed.  I have access to two cultures and I am more tolerant and open to others by being able to communicate in two languages. I feel free to learn about diverse cultures, traditions, and social behaviors as well as be a part of them. In the future, I plan to help people not only with their health, but help them with communication barriers.
I believe that patient navigators are the people who are really making a difference, as they reduce barriers to care and assist patients with questions and concerns. I am very interested in sitting down with patient navigators and patients and collecting their stories.
Please contact me at alejandraarmenta31@hotmail.com if you are interested in an interview. I would love to learn about your job and gain a better understanding of what patient navigators do.