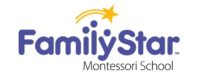 Family Star is currently seeking to fill the position of Oral Health Coordinator. If you want to make a difference in the health of young children and families then Family Star is the place for you!
About Family Star
Family Star Montessori School has provided a transformative early childhood education for over 25 years. Just one of a handful of institutions across the country that is both a Montessori school and an Early Head Start/Head Start agency, Family Star fosters holistic programming to children and families.
With 80% of children and families living below the federal poverty level, the program strengthens families by providing comprehensive services to help parents develop the skills and confidence needed to ensure that families reach their full potential.
Family Star's unique non-profit program operates from two center locations in the heart of beautiful Denver, Colorado and serves families throughout the Denver Metro area through a home-based program option.
Position Summary:
The goal of the Oral Health Coordinator position is to assure optimal oral health for children and families in the Family Star Community. We know that routine preventive oral care and the development of healthy habits in early childhood can lead to better oral health throughout a person's life.
The Oral Health Coordinator will plan, implement and monitor Family Star's efforts to increase families' access to and use of oral health care including providing oral health education to staff and families, facilitating dental screenings and providing family support services.
This position is a temporary, part time (approximately 20 hours a week) grant-funded position for one year with the possibility of renewal, funding dependent.
Major Responsibilities include, but are not limited to:
Data collection, entry and management
Ongoing monitoring and Program Evaluation
Oral Health Curriculum development and implementation
Onsite dental exam coordination
Family support and care coordination services
Developing community partnerships
General support of Health & Nutrition Program
Requirements:
Minimum of a high school diploma or GED
Experience with computers and adept in commonly used software for email, internet, word processing, data collection, entry and management.
Must be able to work the hours of the position based on the organizations' s needs
Must be motivated and able to work independently as well as part of a team.
Must demonstrate a positive attitude with a commitment to customer service.
Must have oral and written proficiency in the English language.
Must be able to work the hours of the position based on the organization's needs.
Must complete clearance of a background check, post-offer, pre-employment physical, and TB test.
Must be able to travel to locations around the Denver Metro area
Physical Requirements:
This position requires the ability to perform the following job requirements, with or without reasonable accommodations: driving/sitting in a car; bending; typing; kneeling/sitting on the floor; rising from kneeling/sitting position; lifting and carrying children up to age 6 years of age.
Desired Qualifications/Skills/Licenses/Certifications:
Bachelor's degree
Experience in data collection, entry, tracking, reporting and analysis
Familiarity with dental and healthcare benefits and providers
Experience working with children ages 0-6
Experience in the field of infant, and child health or public health
Experience working with children and families of diverse populations.
Proficient in Spanish
How to Apply
Please send a letter or interest, resume and 3 references to the Health & Nutrition Program Manager at kgoldstone@familystar.net to apply.