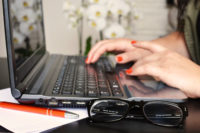 Through the fall and early winter, the Patient Navigator/Community Health Worker/ Promotoras de Salud Alliance will be offering opportunities to hear from CHW and PN experts who have devoted resources and their expertise to develop tracking and data collection databases.
Mr. Nick Flattery: Colorado Heart Healthy Solutions
November 9, 2016: Noon-1 pm MST
Zoom Link
Nick Flattery is a senior project manager at CPC Community Health in Aurora, CO.  He runs the statewide chronic disease prevention program, Colorado Heart Healthy Solutions.  He has over 15 years in the field of community and public health and is passionate about reducing the burden of health disparities throughout Colorado and beyond.
On Nov. 9, Nick will present on a proprietary decision support and data collection system created for the Colorado Heart Healthy Solutions program, called OSCAR (Outreach, Screening and Referral System).  OSCAR allows CHWs in the field and across the state to collect data on program participants and sync that data for analysis to the CPC offices in Aurora.
Dr. Linda Burhansstipnanov: Native American Cancer Research Corporation
December 7, 2016: Noon-1 pm MST
Zoom Link
Or Telephone for Audio
Dial: +1 408 638 0968  or +1 646 558 8656
Meeting ID: 252 184 8364
Native American Cancer Research Corporation (NACR) developed the current online evaluation program in 2005. NACR added the Patient Navigation tab in 2008 with assistance from Linda Krebs, Lisa Harjo, Southeast Program Evaluation (Mark Dignan) and tribal partners (Walking Forward, Intertribal Council of Michigan, Muskogee (Creek) Tribe of Oklahoma, and Comanche Nation of Oklahoma). As of October 1, 2016, the research team has been awarded an NIH Phase I SBIR funding to convert the online program into an easy-to-use, useful and efficient tablet app focused on the Survivorship phase of the cancer care continuum that will allow PNs to easily document activities and interactions.  Phase II will address the full cancer continuum (prevention through end-of-life).  The prototype:
Makes data input easier and more accurate, ensuring systematic data collection;
allows for real-time summaries specific to individual patients;
allows program administrators to monitor PN interactions and produce a summary of activities documenting PN value;
Documents activities for billing; and
Collects patient perspectives on navigation services.
During Phase I, tailored report templates will be feasible to generate for:
An individual Navigator
A phase of the cancer continuum
An individual patient
A cancer care facility