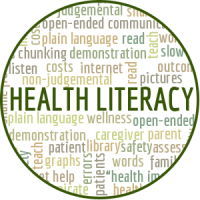 Join the Colorado Health Literacy Coalition for an overview of the Motivational Interviewing mindset, processes, skills, and strategies. We will also discuss the association of Motivational Interviewing and health education with a focus on health literacy. This webinar will feature PNTC MI instructor Katie Garrett!
Webinar: Health Literacy and Motivational Interviewing
Time/Date: 12- 1 PM MDT March 15
Register Here
Presenters:
Kathie Garrett, MA
Kathie is a Clinical Associate in the Behavioral Health and Wellness Program and a Research Senior Instructor in the Colorado School of Public Health. Kathie is also a Certified Tobacco Treatment Specialist and member of the International Motivational Interviewing (MI) Network of Trainers. Her research interests include applied models of behavior change, motivational interviewing, and coping mechanisms across a wide range of chronic illnesses. Kathie has developed or collaborated on the development of five stress and coping interventions for cancer patients, survivors and caregivers and three MI interventions for obesity prevention and tobacco cessation that have been evaluated in large NIH funded randomized controlled trials. Kathie collaborates with the BHWP team on research, programmatic, curriculum and materials development and provides trainings in MI, stress management, and tobacco cessation.
Mary Mancuso, MA
Mary is a Clinical Associate at Behavioral Health and Wellness Program (BHWP), University of Colorado Anschutz Medical Campus, School of Medicine. Mary is involved in content and training material development, training initiatives, including providing ongoing support for trainees, and several BHWP research initiatives. She has a background in education and counseling psychology. Over the past 8 years, she's worked with clients and patients in nonprofit, behavioral health, and hospital settings in clinical, consultant, quality improvement, and research roles. Prior to her role at BWHP, Mary worked in patient education for four years and was the coordinator of health literacy and patient and family-centered care at University of Colorado Hospital; she is also a member of the Colorado Health Literacy Coalition.
Source: Colorado Health Literacy Coalition