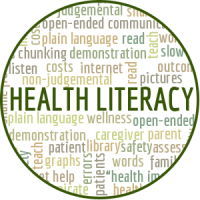 Colorado Health Literacy Coalition 5th Annual Conference: Inclusion and Implementation
When: Sept. 27, 2019, 7:30 am-4 pm
Where: Renaissance Hotel Stapleton, Denver, CO
Cost: $75 (navigators and students can enter code CHLC19 to receive $25 off registration)
Register
This conference focuses on how health literacy can improve health communication and patient/client outcomes. This program will be of interest to clinicians, public health workers, health educators, patient navigators, students, hospital representatives, health insurance enrollers, medical librarians, and anyone interested in health literacy.
Attendees Will Leave With:
A better understanding of how cultural differences can impact health outcomes.
Specific health literacy strategies on how to improve written and spoken communication with clients in a variety of settings.
Ways to implement health literacy practices at your organization.
Learning Outcomes:
Increase your understanding of the effects of culture and how to teach culturally-diverse populations.
Understand how to get buy-in for health literacy initiatives.
Learn how to implement health literacy practices.
The Colorado Health Literacy Coalition is a collaborative effort between UCHealth – University of Colorado Hospital, Children's Hospital Colorado, the Colorado Hospital Association, the University of Colorado Strauss Health Sciences Library – Anschutz Medical Campus, the National Network of Libraries of Medicine, MidContinental Region, Saint Joseph Hospital, and the Spring Institute.