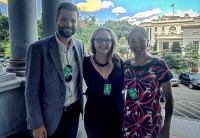 Andrea (Andi) Dwyer, a trainer for the Patient Navigator Training Collaborative and co-director of the Colorado Colorectal Screening Program at the University of Colorado Cancer Center, recently visited Washington, D.C., and met with White House officials to discuss colorectal cancer advocacy. She is pictured here (at center) with Amy Williams (right), National Cancer Institute, Acting Director Office of Advocacy, and Patrick Mahoney (left), Advocacy Relations Manager Office of Advocacy.
Here is Andi's blog about the experience:
It's not every day you check your voice mail to learn that you are being invited to the White House to share your experience. It was my first and it was fantastic experience.  The invite came from the National Cancer Institute, following up on research advocacy and work I've led in partnership with University of Colorado and Fight Colorectal Cancer.
This voice message held a special invite to come to the White House with a special team of the Vice President's Moonshot Program, to share experiences with linking to patients clinical trials. I was invited because of my connection with Fight CRC and efforts at University of Colorado as we've tackled this extremely complex but necessary effort.  Specifically, to think about how the current search engine tools in the field and how clinicaltrials.gov can be enhanced to help patients, clinicians, caregivers and anyone looking for a clinical trial in cancer might connect.
There is a lot of fantastic work outlined in the Moonshot program, much of it centered on connecting and improving resources that are already in existence, and dedicated conversations to be sure this effort continues on even beyond this administration.
Prior to my White House meeting, I connected with leadership here at CU, with Fight CRC, the Colorado Cancer Coalition and community to be sure to integrate ideas and experiences from a broad perspective and all of these groups are primed to take active steps to move the needle in this area.  I will continue to infuse these ideas with the NCI, additional Moonshot Initiatives and most importantly, ensure these efforts truly engage and help patients who are in need in Colorado and with Fight CRC.
Reposted with permission from the University of Colorado Cancer Center blog.