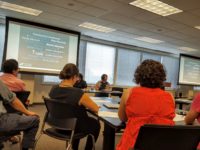 More than 110 people from around the state participated in the Patient Navigator, Community Health Worker and Promotor de Salud Alliance Summer Meeting on July 8. The conference room at the COPIC insurance offices in Lowry was packed, and dozens more people joined via web connection to hear all the latest updates on PN/CHW/PdS news in Colorado.
The meeting was held to re-launch the Alliance (formerly called the Collaborative, but a separate organization than the Patient Navigator Training Collaborative) and convene the CHW, PN and PdS community to share opportunities to advance and sustain initiatives in Colorado.
Updates included:
Patient Navigator Training Collaborative: The PNTC has been offering trainings throughout the state since 2006. The training program has grown each year and trains hundreds of people per year in both basic skills and advanced curriculum.
"We do focus on the role of navigation – even if it's not done by a patient navigator. So we try to make sure our content is relevant whether you're called a community health worker, care coordinator, case manager… which is kind of a shift than previously," said Patricia Valverde, PNTC director.
Otero Junior College: Located in La Junta, CO, Otero offers a 1-year Community Health Worker Certificate. This counts toward a Health Navigator Associate's degree, and the college is working with four-year partners to articulate this into an bachelors' degree.
"We have been very successful in reaching those underserved populations as our students. We are very excited about the number of first generation student who are coming to our classes," said Kaysie Schmidt, OJC Health Navigation faculty member. The program plans to launch a distance learning option in the fall to expand reach outside the region.
Colorado Department of Public Health and Environment's Workforce Initiative: This effort is to establish a competency-based credentialing program and registry for the state's rapidly growing patient navigator workforce.
There are countless titles given to people performing navigation activities, but "They are really known for their ability to facilitate access to care, improvements in the quality of care and cultural competence in that care," said Pat Uris, senior consultant for CDPHE's Prevention Services Division.
The initiative aims to define the competencies and standardize the training for these unlicensed personnel to add a layer of protection for patients and employers, Uris said. Both the credentialed training program and the patient navigator registry will be voluntary. Initiative members envision that a navigator will learn a standard set of basic skills and pass a competency test, which will earn them a place on the registry.
Health Care Policy and Finance: Rocky Mountain Health Plans shared activities from the Regional Care Collaborative efforts, such as project on the Western Slope using navigators to work with clients one-on-one with the goal of reducing ER utilization rates.
In addition, the Colorado Regional Health Connectors program gave an update on their efforts. Regional Health Connectors  or RHCs are dedicated to improving the coordination of local services to advance health. The work of each RHC will be driven by the unique needs of their region. The common goal of the RHC program is to identify and address gaps in a comprehensive environment of care by enabling primary care practices to address all the determinants of health and by removing common obstacles between doctor's recommendations and a patient's daily life.
After the updates from the various organizations involved in PN work, participants met in small groups and gave feedback on the proposed Alliance Mission and Charter document.
The Alliance was formed in 2012 as a grassroots organization in an effort to align all of the various patient navigator/community health worker/promotoras groups in Colorado and identify and develop a sustainable model for this important work. The statewide coalition is composed of local and state agencies, advocacy groups, philanthropic organizations and public and private health plan representatives.
Up Next
If you participated in the meeting and would like to share your thoughts, click here for a post-meeting survey.
The next all-member CHW PN and PdS Alliance meeting date will be announced by early August. The group plans to meet quarterly.
If you are interested in joining in the CHW Competencies Workgroup, this meeting will be held on August 8, 2016, from 1-2:30 pm via Zoom Connection (this webconnection modality has option for phone and computer). Email Andi Dwyer if you would like to join at Andrea.Dwyer@ucdenver.edu.