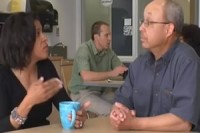 Please join the Colorado Community Health Worker, Patient Navigator and Promotore de Salud Alliance for the a three-part series focused on motivational interviewing for patient navigators, community health workers and promotores.
This series will specifically target reaching the "hard to reach" population for cancer screening.  The first session will focus on the basic skills of motivational Interviewing and applying case studies around specific barriers to apply and practice motivational interviewing.  This work is based off of the experience of the Colorado Cancer Screening Program for colorectal cancer and now expanded to also include breast and cervical screening, HPV vaccination, lung cancer screening and also prostrate screening.
We encourage participation statewide and specifically invite rural partners to join us for this special event.
This "virtual workshop" will be held using Zoom, which is free and easy to use. Zoom will allow us to connect face-to-face, without requiring travel. The trainer for this workshop will utilize breakout rooms so that participants have an opportunity to practice skills.
This series is offered at NO COST, due to funding from the Colorado Cancer Coalition.
Attendance at all three sessions is encouraged but not required; those who attend all three sessions will receive a "Basic MI" certificate of completion for the series.