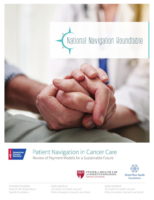 Patient navigation has been shown to improve patient health outcomes, decrease hospital readmissions and emergency room visits, and increase patient satisfaction and quality of life. To build support for expanding critical navigation services to more patients across the country, the National Navigation Roundtable is proud to release Patient Navigation in Cancer Care: Review of Payment Models for a Sustainable Future.
This issue brief:
defines patient navigation;
catalogues the evidence of navigation's impact on the patient experience, health outcomes and costs;
explores how navigation can help providers and payers meet quality measures; and
highlights short- and long-term models for funding navigation today and in the future
Drawing on examples of cancer-related navigation and bringing in lessons from navigation for other health conditions, the brief looks across the spectrum of navigation program funding models, from Medicaid fee-for-service to Medicare shared savings programs, from private and public insurance innovation to grants. Patient Navigation in Cancer Care closes by encouraging decision-makers to take specific steps to sustainably embed navigation into cancer prevention, screening, treatment, and survivorship care.
Source: National Navigation Roundtable