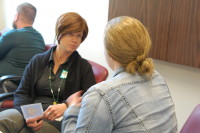 Experienced, non-licensed (non nurse/social worker) patient navigators are needed to help pilot-test the state's future PN skills exam on Jan. 23, 2016, at the Anschutz Medical Campus in Aurora. This pilot test requires PNs to work with professional patient actors using real-life patient scenarios.
PN volunteers will be asked to meet with up to 15 patient actors during a 3.5-hour session. Participants will receive a Certificate of Appreciation documenting participation in the event. Free parking and lunch will be provided, as well as a $25 gift card.
The Colorado Department of Public Health and Environment (CDPHE) is working to establish voluntary credentialing for lay patient navigator educational/training programs and create a state-managed registry of PNs who have successfully completed the training program and/or skills test in Colorado.
CDPHE has partnered with the Center for Advancing Professional Excellence (CAPE) on the Anschutz Campus to test these patient scenarios using the same process that CAPE uses to evaluate physicians and other licensed providers' ability to work with and communicate with patients.
Although the PNs at this pilot test will not be personally evaluated, don't miss this opportunity to provide feedback and obtain experience related to the future testing procedures!
Personal auto expenses for mileage will be reimbursed as per state policy. For those who attend from outside of the Front Range metro area, travel and lodging may be provided (must be estimated and approved prior to participation). CDPHE has budgeted for unintended travel costs in case inclement weather impedes travel.
You are eligible to participate if you are an experienced non-licensed PN (other job titles may be used at your work place) performing such duties as:
Linking patients with services
Providing information and resources
Helping providers interact with patients
Offering health education and promoting behavior changes.
For more information or to volunteer, contact Pat Uris at 303.692.2577 or Patricia.uris@state.co.us. Response is required by Dec. 18, 2015.