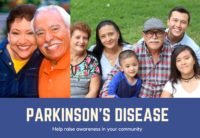 Parkinson's disease (PD) is a progressive, disabling condition that currently affects at least one million Americans. While there is no cure, treatment options are available to improve function and quality of life. Hispanics and Latinos are at risk of developing PD but are less likely to see neurologists for their care. They are also less likely to receive certain therapies for Parkinson's disease. These include physical, occupational and speech therapy. Hispanics and Latinos remain under-represented in PD research.
The Movement Disorders Center at the University of Colorado is excited to work with community members and health researchers to learn more about Parkinson's disease in the Hispanic/Latino communities.
A "Kick-Off Meeting" will be on Saturday, November 9, 2019 from 8:30 am – 4 pm at Montbello Recreation Center.
The project needs the perspective and experiences of community members to think about and answer the questions:
What is Parkinson's disease? What does my community need to know about Parkinson's disease? How can research on Parkinson's disease benefit the people in my community?
How can people in my community be informed about Parkinson's disease?
If you decide to volunteer:
You will be asked to attend once a month meetings for 4 months to learn about Parkinson's
Create messages for your community
You will be reimbursed $250 for your time
The study is especially looking for people to join who:
Identify as Hispanic/Latinx
Are at least 18 years old
But everyone is welcome!
For more info: Contact Gordon Matthewson, BA at 303-724-0813 or Gordon.Matthewson@cuanschutz.edu.
Source: University of Colorado Movement Disorders Center