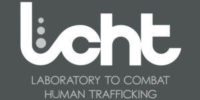 Please join the Laboratory to Combat Human Trafficking Oct. 15, 2020, for an important training on how human trafficking is impacting Colorado. This human trafficking awareness training will cover federal and local laws, root causes of trafficking, identification and complexities of disclosure, and local resources to support survivors.
There will be two virtual trainings offered on Oct. 15: 11:30-1 pm OR 7:30-9 pm MT.
RSVP Here:
AM Training
PM Training
Who Should Attend:
Anyone and everyone interested in joining the fight against human trafficking in Colorado
Healthcare providers
Behavioral and mental health providers
First responders (Fire and EMS)
Victim service providers
People who work with systems-involved youth
Law enforcement
What You Will Learn: 
How to identify human trafficking situations and potential victims
How communities across Colorado are responding to human trafficking
How to connect to local anti-trafficking and victim support resources and develop protocols to protect victims
Source: The Laboratory to Combat Human Trafficking
The Laboratory to Combat Human Trafficking is a leader in Colorado's anti-trafficking movement. Since 2005, we have trained over 35,000 professionals and community members; conducted research to drive action and inform policy change; operated the statewide 24/7 human trafficking hotline; and developed over 150 future human rights leaders.