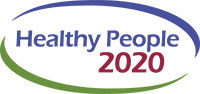 In this webinar, you'll learn about progress made toward achieving the Healthy People 2020 Access to Health Services Leading Health Indicators. You'll also learn how Door to HealthCare, a regional consumer assistance organization, is using navigators to increase access to health services in Maryland.
Who's Leading the Leading Health Indicators: Access to Health Services
When: 10-11 am MST/Noon- 1 pm EST on Thursday, Jan 19
Register
About Access to Health Services
Access to and utilization of quality health care can greatly affect a person's health. Increasing access to both routine medical care and medical insurance are vital steps in improving the health of all Americans. Regular and reliable use of health services can prevent disease and disability, detect and treat illnesses or other health conditions, and increase life expectancy.
About Healthy People 2020 Leading Health Indicators
The Leading Health Indicators (LHIs) represent a smaller set of Healthy People 2020 objectives selected to communicate high-priority health issues and actions to help address them. LHIs are used to assess the health of the Nation, facilitate collaboration across sectors, and motivate action to improve the health of the U.S. population.
Source: HealthyPeople.gov