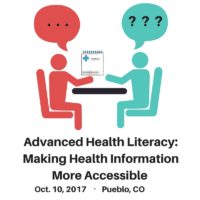 Did you know that more than one-third of the US population has basic or below basic health literacy skills? The ability to understand, interpret, and process health information is known as health literacy. Patients need to understand health messages in order to make appropriate health decisions for themselves and family members, and patient navigators are essential in helping communicate this important information.
The Advanced Health Literacy course is designed to help Patient Navigators recognize patients with low health literacy and how to increase comprehension, readability, retention and apply skills to increase health outcomes.
Learning Objectives
This 1-day training will be highly interactive and activity based. By the end of the training, you will be able to:
Identify a variety of health education materials that are appropriate for your patients/clients.
Modify your verbal communication (e.g. word choice, explanations) to increase patient/client understanding of health-related information.
Use appropriate strategies to checking for understanding in order make sure that the patients/clients that you work understand important health information.
This workshop will be held in partnership with the Patient Navigator/ Community Health Worker/Promotor de Salud Alliance and will include a meeting over lunch featuring PN work and opportunity in Southern Colorado. The featured speaker will be Michelle East with Pueblo Community Health Center.
Advanced Health Literacy
When: 8:30-5 pm Oct. 10
Where: Pueblo Community College, Pueblo, CO
Register
To register for the Oct. 10 Alliance meeting ONLY (not the Health Literacy course) click here.