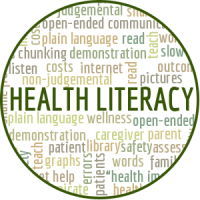 Third Annual Colorado Health Literacy Coalition Conference
Health Literacy: Building Bridges Within & Between Organizations
When: Friday, November 3, 2017, 8 am – 3 pm
Where: University of Colorado Hospital Conference Center, Aurora, CO
WITH PRESENTATIONS FROM:
Cynthia Baur, PhD, Director, Horowitz Center for Health Literacy & Horowitz Endowed Chair in Health Literacy,

University of Maryland School of Public Health

Toni Cordell, National Speaker in Health Literacy
Breakout sessions on: Health Literacy in QI Initiatives, Medication Management, Reaching the Public During National Disasters and Bridging Gaps between Clinical and Communications staff.
ATTEND TO:
Connect with other champions of health literacy
Increase your knowledge of and skills in health literacy
Improve written and spoken communication with your patients or clients in a variety of settings
TO LEARN MORE:
Registration price is $75.  Students and Patient Navigators receive 50% off registration. Use code HLCONF at checkout. Please be prepared to show identification upon check-in. Click here to register. Deadline is Oct. 30.
PLEASE NOTE: If you wish to pay by check, please use discount code PAYBYCHECK to bypass the credit card payment. Please make a check payable to UCH-Foundation with fund#14401 on the memo line. Mail to: Allison Knaus 12401 E. 17th Ave. Mail Stop F448 Aurora, CO. 80045.
For questions, contact Alli Knaus 720-848-7477 or Monique McCollum 720-848-1075.
Follow us at http://www.healthliteracycolorado.org/ or on Facebook for up-to-date conference information!