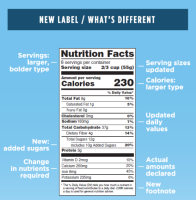 Flip over your favorite packaged snack food and you'll be sure to spot the nutrition facts label, detailing serving size, calories, fat and other key clues to the item's nutritional content. The Food and Drug Administration (FDA) recently announced key changes to this label, with the aim of helping people make informed decisions about the foods they eat and feed their families.
"I am thrilled that the FDA has finalized a new and improved Nutrition Facts label that will be on food products nationwide," said First Lady Michelle Obama at a press conference held May 20 to unveil the new label. "This is going to make a real difference in providing families across the country the information they need to make healthy choices."
Most food manufacturers will be required to use the new label by July 26, 2018. Efforts to update the label, introduced more than 20 years ago, have been the works for about 2 years.
Changes include:
Serving sizes: Ever look closely at this one to realize a "serving" is just 10 chips, and you've eaten half the bag? Serving sizes have been updated to reflect what people actually eat, not what companies think they should be eating. By law, the Nutrition Labeling and Education Act requires that serving sizes be based on what people actually eat.
Added sugars: This is a brand-new category added in the wake of updated dietary guidelines encouraging Americans to cut back on added sugars. This category lets consumers know how much sugar has been added to product versus naturally occurring sugars (such as in lactose).
Odd-size packages: For items that are between one and two servings, such as a 20-oz soda, the calories and other nutrients will be labeled as one serving.
Multi-serving products: Some labels will include dual columns to indicate both "per serving" and "per package" calorie and nutrition information for certain multi-serving food products that could be consumed in one sitting, (Ben and Jerry's, anyone?)
Updated daily values: This includes nutrients like sodium, dietary fiber and vitamin D, consistent with Institute of Medicine recommendations and the 2015-2020 Dietary Guidelines for Americans. Daily values are reference amounts of nutrients to consume or not to exceed and are used to calculate the "% DV" included on the label.
Vitamin D and potassium: This nutrients now include the actual gram amount, in addition to the % DV. "These are nutrients that some people are not getting enough of, which puts them at higher risk for chronic disease," according to the FDA.
More information:
Here's a first look at the FDA's new nutrition label — and 10 reasons why it's different from the old (Washington Post)
FDA modernizes Nutrition Facts label for packaged foods (FDA press release)