Motivational Interviewing Skills for COVID-19 Conversations
Map Unavailable
Date/Time
Date(s) - 04/01/2021
11:00 am - 1:00 pm
Categories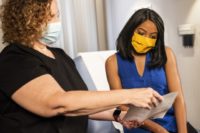 Targeted Patient Navigator Knowledge and Skills for COVID-19 Conversations
Ending the COVID-19 pandemic relies heavily on the vast majority of people getting vaccinated; however, vaccine hesitancy is a growing concern. Motivational Interviewing (MI) skills can be used to guide respectful and empathetic discussions around vaccination.
This virtual workshop builds on the fundamental motivational interviewing concepts and basic skills learned in the Health Navigation Fundamentals course/Basic MI course. You will expand your skills related to the strategic use of MI and other communication skills when working with patients who are hesitant about following COVID-19 protective guidelines and/or who are vaccine hesitant.
Workshop topics include:
A review of COVID-19 information relevant to patients making decisions about testing, treatment and prevention (vaccination)
A review of basic MI and other communication skills targeted specifically to common COVID-19 concerns
MI-spirited patient navigator conversations for COVID-19 vaccine hesitancy
Audience: Patient navigators, health navigators and care coordinators working in clinical and community health settings
Prerequisite: Basic Motivational Interviewing training (either through the Level 1: Health Navigation Fundamentals in-person training, Basic Motivational Interviewing Online course or Taste of Motivational Interviewing workshop)
Due to funding, Colorado residents receive priority for this FREE training. If you live outside Colorado, you will be placed on a waitlist.