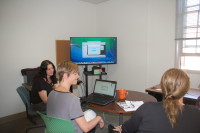 Our first ever ECHO Learning Community is coming along swimmingly! ECHO Colorado–Extension for Community Health Outcomes–is based off of the University of New Mexico model which uses teleconferencing to create a system of peer learning networks.  The ECHO approach specifically focuses on capacity building and support in rural and underserved areas.
The current PNTC ECHO Learning Community, facilitated by Andrea Dwyer, convenes monthly and has focused on Resources for Patient Navigators.  Using bi-directional video, topic experts have provided brief presentations on best practice strategies, followed by group case discussion.
What are participants saying?
Since I have only launched my position 2/1/2015, I am continuing to grow it and this course has thus far proved invaluable.
The topics for this session – and those planned through Sept. could not have come at a better time for me/my organization. I can't believe how much I learn in an hr – without leaving my desk! Thank you
Stay tuned for information on upcoming PNTC ECHO Learning Communities.  Also, a big thank you to Kory Thomas and Christine Cook from the Colorado School of Public Health for your collaboration and support on this!