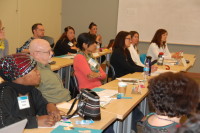 Grant enable program to continue to offer free workshops to Colorado Patient Navigators over the next three years
A 41-year-old patient came to the physical therapy office saying he just wanted his knee pain gone. The Mexican national had been out of work for nearly 12 months and was worried he would get evicted if he could not return to his job in interior design.
The patient became upset when the PT office had the wrong information. Someone in the office called Veronica Morales, a patient health navigator and the care coordination team lead at Mountain Family Health Centers in Glenwood Springs. Thus began a relationship that was equal parts coach and advocate.
Morales helped the patient get physical therapy and also treatment for his underlying problem: HIV. Several weeks later, when the patient was hospitalized for complications from HIV, another mix-up had him being discharged to his home, instead of to a nursing home as was specified by his physician. Morales stepped in to clear up the miscommunication, possibly saving his life.
"Patient navigators knit together a fragmented health care system," says Patricia Valverde, MPH, PhD, an instructor in the Community and Behavioral Health department at the Colorado School of Public Health (ColoradoSPH) and director of the Colorado Patient Navigator Training Collaborative, which includes ColoradoSPH's Center for Public Health Practice, the Denver Health Prevention Training Center, and Red Rocks Community College. The Collaborative is one of only two training programs in the country that specialize in patient navigation.
Valverde, a founding member of the Collaborative, ​has been training patient navigators for nearly a decade. She will continue to do so thanks to a new three-year, $1.5 million Cancer Cardiovascular and Pulmonary Disease grant from Colorado's tobacco revenue fund.
The grant will enable the Collaborative to continue training navigators like Morales. Trainees include new and experienced navigators, social workers, nurses and community healthcare workers. Over the course of the previous three-year grant, nearly 1,300 trainees attended the Collaborative's workshops.
Colorado residents can take workshops free of charge, while a small fee applies to out-of-state participants.