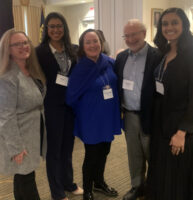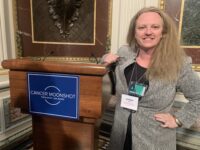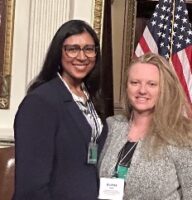 Andrea Dwyer, University of Colorado Cancer Center, Colorado School of Public Health, traveled to Washington, DC, to participate in the White House Cancer Moonshot Colorectal Cancer Forum on March 10. Dwyer directors the statewide Colorado Cancer Screening Program.
In recognition of March as Colorectal Cancer Awareness month, the White House Cancer Moonshot convened leaders from the colorectal cancer community, including patients, survivors, private sector companies, foundations, academic institutions, and health care providers focused on accelerating efforts to reduce the deadly impact of colorectal cancer.
From Dwyer:
"I was excited to join Swati Patel, MD, my Colorado colleague, and about 50 others to join in the Colorectal Cancer Forum at the White House on March 10. 2023.  It is my hope that the Biden team and all of our elected officials will truly take this opportunity to embrace the power of cancer early detection, outreach and seize opportunities to develop new and cutting edge treatments.  The brain trust, passion and energy at the White House is what it will take to achieve a Moonshot, the time is now. 
"I enjoyed the time at the White House but the conversations leading up to the walk to the White House to talk about a real plan to get us to achieve great success in equitable roads to care. I thank Fight Colorectal Cancers President Anjee Davis about opportunities to convene for real discussions and I am thrilled to be part of the initiative to move forward with other academic agencies, clinical teams, industry partners, insurers, data gurus, our federal agencies and cancer survivors. 
"Patient navigation was routinely mentioned as an area to propel our work in cancer prevention and control and after nearly 20 years in the field, I am hopeful for the opportunity at the state and federal level, we will truly see sustainability of navigation and be one step closer to providing equitable cancer care.  The Moonshot is an initiative of the White House but to get there, we need all of us."