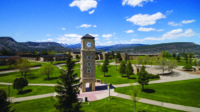 We are pleased to announce that the Patient Navigator Training Collaborative, in partnership with Southwestern Colorado Area Health Education Center, is bringing 3 advanced patient navigator workshops to beautiful Durango, CO, in May 2017. Details and links to register are below. All workshops will be held at Fort Lewis College and are FREE to Colorado residents!
May 9: Advanced Care Coordination
Healthcare delivery is often fragmented, resulting in higher costs, poor health outcomes and decreased patient satisfaction. In this course, you will learn what patient groups will benefit most from care coordination and what these activities look like. You will leave will the knowledge and skills to provide high-quality, coordinated care for your clients.
May 10: Advanced Motivational Interviewing
This workshop builds on the MI concepts introduced in our Level 1 course. MI is designed to address a patient's ambivalence to change. This is a great skill to have in your toolbox to reduce resistance, help your clients set goals and ultimately improve patient outcomes. Join us for this fun, interactive workshop!
May 11: Advanced Health Behavior Change
Help your clients reach their goals! This workshop provides a deeper dive into tools and strategies to help clients around diet, exercise, diabetes and cardiovascular disease prevention and control. There is a small amount of online prework required prior to the in-person course.
Please note that the perquisite to attend these workshops is Level 1: Patient Navigator Fundamentals or equivalent work experience. We are exploring the possibility of holding a Level 1 course in Durango in Fall 2017.
Questions? Contact Erin Martinez at 303-724-7764 or erin.martinez@ucdenver.edu.
Photo courtesy Bill Grimes/Fort Lewis College