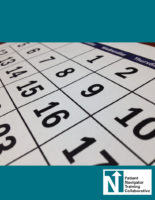 It's almost a new year and course dates for 2019 are coming your way!
Level 1: Health Navigation Fundamentals
Join us in Arvada on Jan. 30-Feb. 1 for Health Navigation Fundamentals. Topics in this comprehensive "Level 1" training include patient communication, health promotion, professional conduct and motivational interviewing. This course will be offered quarterly, depending on demand. Our online Level 1 course will be offered in March.
Basic Motivational Interviewing
Motivational interviewing is a patient-centered communication technique that helps people resolve ambivalent feelings and insecurities to find the internal motivation they need to change their behavior. In this interactive workshop, you will learn basic MI techniques you can use with patients to help support behavior change: open-ended questions, affirmations, reflective listening and summarizing. This one-day course will be offered Jan. 24 in Arvada. Please note: This is the same content that is covered on Day 2 of the Health Navigation Fundamentals Course. It is designed for those new to MI or who would like a skills refresher.
Care Coordination Online 
Join us online in March for this 4-week course! We will explore care coordination and related concepts, including their application to practice and commonly encountered challenges. You will be guided step-by-step to learn the basic skills and advanced strategies to enhance team-based care and client engagement for better health outcomes, patient safety, and workflow efficiency.
Care Coordination ECHO series
Learn practical care coordination skills from experts and peers within a multi-professional team during this free six-week learning series. You will connect with your peers in an interactive, virtual setting to work through case examples and practice skills.  Learn how you can better understand, communicate, and work at the top of your scope. Recommended Prerequisite: Care Coordination for Health Navigators course. This series will be offered quarterly in 2019 as part of a study in partnership with PNTC. Learn More
Dates coming soon …
We will also offer Advanced Motivational Interviewing and Care Coordination in-person in 2019. Social and Emotional Aspects of Disease Online course will be offered in fall 2019.