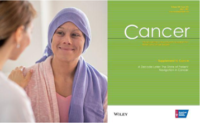 Patient navigation, trained individualized assistance that guides patients, families and caregivers through a complex care system, is one of the only evidence-based interventions to eliminate health disparities and improve health equity across the cancer continuum.
The National Navigation Roundtable, along with American Cancer Society, released the new supplement to the journal Cancer titled "A Decade Later: The State of Patient Navigation in Cancer Care," detailing the impact of patient navigation and the key role it plays in improving outcomes for cancer patients. The supplement is a follow-up to a previous publication, released in 2011, titled "National Patient Navigation Leadership Summit: Measuring the Impact and Potential of Patient Navigation."
Patient navigation fills a key gap along the cancer journey that fulfills the mission of NNRT commitment to ensuring everyone has an equal chance to fight and overcome cancer.
Colorado authors featured in the supplement include:
The supplement includes articles authored by Alliance Executive Committee Members Andrea (Andi) Dwyer (Director, Colorado Cancer Screening Program) and Linda Burhansstipanov, MSPH, DrPH (Founder, Native American Cancer Research Corporation), as well as Colorado partners Patricia Valverde, PhD, MPH (Director, Patient Navigator Training Collaborative and assistant professor, Colorado School of Public Health), Elsa Weltzien, MPH (Senior Program Manager, Colorado Cancer Screening Program) and Betsy Risendal, PhD (Professor, Colorado School of Public Health).
Andrea J Dwyer, B.S. University of Colorado; Chair, NNRT, et al., Collective Pursuit for Equity in Cancer Care: The National Navigation Roundtable
Patricia Valverde, Ph.D., MPH, Colorado School of Public Health, NNRT Steering Committee, et al., Flexibility, Adaptation and Roles of Patient Navigators in Oncology during COVID-19
Source: National Navigation Roundtable and American Cancer Society