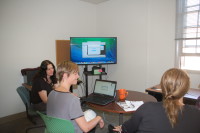 Did you know PNTC has begun its first ECHO Learning Community on Patient Resources?
The ECHO model ~ Extension for Community Healthcare Outcomes ~ is inspired by Project ECHO at the University of New Mexico. It is an innovative approach to building capacity in rural and underserved areas by supporting and expanding the participant's scope of practice by using bi-directional video.
How is the model used for patient navigation?
The ECHO for patient navigators will focus on increasing patient navigator's knowledge and skills in topics of interest. During ECHO sessions, topic experts present brief trainings on current best practice strategies and patient navigators present cases on the application of those strategies in their practice using bi-directional video. Topic experts and other participants discuss cases and recommendations are made regarding next steps. Patient navigators may bring the same cases back for ongoing decision-making support.
The ECHO model:
Reduces patient navigators' isolation
Reduces high cost of off-site trainings
Utilizing the ECHO model exponentially increases access to expert knowledge and support by strategically moving knowledge instead of moving practitioners
If you would like to get involved, stay tuned for news on upcoming ECHO Learning Communities and or you may also email Andrea (Andi) Dwyer and andrea.dwyer@ucdenver.edu
.